Workshops
Workshops
All workshops are now online via Zoom, and can be booked here. (Simply choose the date of the workshop you are interested in on the booking page.)
New Moon Workshops – Yoga and Intention Setting under the new moon
The Sunday closest to the New Moon, 6-7.30pm, online via Zoom, £18.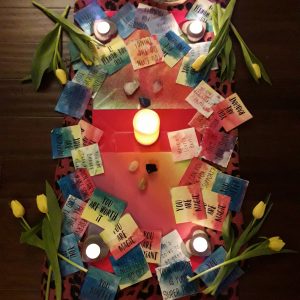 Aquarius – 14th Feb 2021
Pisces – 14th March
Aries – 11th April
Taurus – 9th May
Gemini – 13th June
Cancer – 11th July
Aquarius is independent and loves being the unique soul she/he is. They love change and personal growth and have a strong sense of community and connection with others.
Come and explore this Aquarian energy with us as the New Moon rises in this sign.
Our yoga practice will explore the theme of uniqueness, celebrating what you bring to your practice and to life. We'll then journal, exploring some questions around the themes of Aquarius and finish up by setting our intentions for the month to come.
This is a small, friendly group of people all doing this work individually and privately, but together in a supportive environment. It is part of a process of living with more awareness and intention, cultivating the ways we'd like our life to develop. Read about how the practice of living intentionally and running these workshops has influenced me here.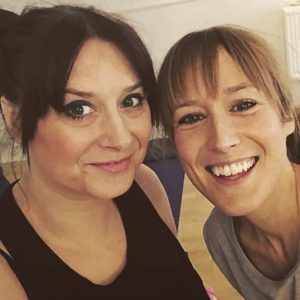 This workshop is led by me, and Sara of Moonlight and Manifesting. 
If you want to know more about us, check out Sara's work on Insight Timer here and my yoga YouTube channel (a work in progress!) here.
If you've never been to anything like this before we would love for you to attend. And don't worry – we're not massive hippies! Just two women who have found that this practice of living intentionally has been beneficial in our own lives, who would love to share this with others.
Those who attend these workshops have given feedback such as:
"This was an insightful practice, and wonderful to give myself some time with lovely folk."
"Haven't really been to a nicer yoga practice ever. The new moon info was very interesting. Thank you. what a nice time to have to reflect and set intentions."
"It's been a rough three months and having this space and time on a regular basis has been a way to feel grounded and stable when everything else wasn't."
Please bring a little notebook and a pen so that you can write down your intentions. 
Sivananda Yoga Masterclass
Saturday 20th February 2021, 10am-12noon, £15, online via Zoom. Book here.
The Sivananda practice is a set sequence of hatha yoga (meaning we practice the same poses in the same order each time).  We start in savasana, then practice two breathing exercises, sun salutations, and 12 different asanas followed by a long guided relaxation.  The focus is on moving with awareness and breathing deeply. This practice aims to stretch and strengthen, moving the spine in all directions as well as moving the different energies in the body so that you feel balanced by the end – both energised and calm.
Practicing a set sequence can be really rewarding as it helps you see changes in your body and practice since you last did the sequence and practiced particular poses.
Below is a speeded up video of the whole sequence so that you can see what it involves. And here's a blog I wrote for Santosa on the Sivananda practice here.
If you have any questions about any of these workshops I'll be happy to hear from you. Please email me on joanna@shineonyoga.co.uk