Workshops
Workshops
All workshops are now online via Zoom, and can be booked here. (Simply choose the date of the workshop you are interested in on the booking page.)
Storytelling Yoga Workshop – Inanna's descent into "the great below"
Saturday 22nd January 2022, 10-11.30am, online, £15. Book here.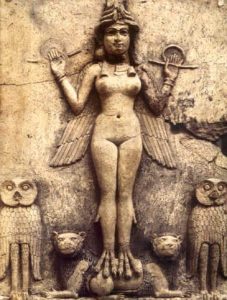 Our yoga practice will be woven around the story of the Goddess Inanna, the Mesopotamian Goddess of Heaven and Earth. Inanna is called to the underworld, where her sister, the Goddess of Death rules. We'll journey with Inanna to "the Great Below" where she thinks she's going to attend her brother-in-laws funeral but where she will be striped of her power. All the ways she approaches the world above don't work in the underworld, this place of death, depression and grief. Without her powers, Inanna will be left for dead. Come and join me to hear how she gets out of the underworld and the lessons she learns.
The wonderful thing about the ancient Gods and Goddesses is that they are imperfect. They are petty, spiteful, angry, heroic, courageous, beautiful… in other words they have very human qualities. They act in the ways that we act which makes their stories and life lessons all the more relateable.
This yoga workshop is for all. The topic might seem heavy and deep, but I offer it in the hope that it speaks to the universal truth of human suffering. I also understand if it isn't for you and hope to see you at the next workshop instead.
Bring a notebook in case you want to journal anything after the practice.
Sivananda Yoga Masterclass
Next date TBC, Saturday, 10am-12noon, £15, online via Zoom.
The Sivananda practice is a set sequence of hatha yoga (meaning we practice the same poses in the same order each time).  We start in savasana, then practice two breathing exercises, sun salutations, and 12 different asanas followed by a long guided relaxation.  The focus is on moving with awareness and breathing deeply. This practice aims to stretch and strengthen, moving the spine in all directions as well as moving the different energies in the body so that you feel balanced by the end – both energised and calm.
Practicing a set sequence can be really rewarding as it helps you see changes in your body and practice since you last did the sequence and practiced particular poses.
Below is a speeded up video of the whole sequence so that you can see what it involves. And here's a blog I wrote for Santosa on the Sivananda practice here.
If you have any questions about any of these workshops I'll be happy to hear from you. Please email me on joanna@shineonyoga.co.uk