About Me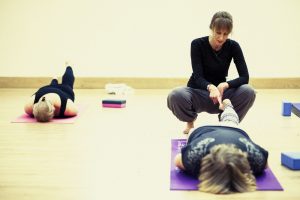 I have a background in clinical healthcare, which gives me a good grounding in anatomy, physiology, and how the body moves.
I gained my yoga teacher training certification at the Sivananda Yoga Vedanta Dhanwantari Ashram in Kerala, India at the beginning of 2013. Read my thoughts about yoga here.
Originally I trained in Sivananda yoga, a set sequence of yoga practice.  This repeated sequence creates a great foundation on which I build my practice and whilst the classes I teach (and my personal practice) have moved on from this sequence,  it still underlies the way I structure my classes and gives me a strong understanding of the basic yoga postures and foundational practices in which my practice is firmly rooted.
I am deeply grateful to all my teachers who have studied and practiced and shared their insight and experience with me.
I believe yoga can be adapted to suit the needs of any individual and that it isn't about being able to touch your toes.  It's about working with your own body and coming to understand its abilities and limitations.
When not teaching yoga, I am a part time masters student at the University of Edinburgh which I love.  In the past I have developed physical activity programmes for Edinburgh Leisure and the MS Therapy Centre Lothian, working with people with cancer, MS, Parkinson's, Chronic Fatigue etc. to help them improve their health and well-being by taking part in yoga, Pilates and other activities.
Qualifications
Sivananda Yoga Teacher Training (Jan 2013)
REPS level 3 Exercise Referral (Nov 2014)
Exercise for MS, run by Mbodies Training Academy (Jan 2015)
REPS level 4 Cancer and Exercise (Dec 2015)
Skill in Action, Advanced Teacher Training with Natalie Rousseau (June 2016)
---